The Summary of My First Day in Bangkok
What's my first impression of Bangkok?
Spiritually Beautiful, Friendly Community, and Ridiculously Affordable.
After a long trek from Los Angeles to Bangkok, Thailand, I'm talking about nearly twenty hours; I was agitated and irritated. Going through immigration and multiple checkpoints really tested my patience. I had an eight-hour layover in China, and somehow I ended getting lost for two hours during my transfer at the Beijing airport. Don't ask me how this happened, but simply not paying attention and the jet lag taking over me led me to the wrong and opposite side of the massive airport. Already impatient, I had to go through the hassle of explaining that I was lost, but with the language barrier, it became a headache and difficult. Once I found my way back to the international terminals where I needed to be, without hesitation, I sat down at a restaurant and had a glass of wine.
My initial journey to Bangkok was a bit hectic. However, I arrived in Thailand, and my attitude was adjusted and simmered noting it was over and I made it. Calmly I walked outside of the airport ready to start the adventure. The warmth of the air and humidity forced me to take off layers. I removed my coat and scarf and quickly pinned up my thick hair. I instantly noticed a lot of other tourists and backpackers from different backgrounds. There was an enormous amount of commotion happening; however, it was the kind of commotion that exploited everyone's excitement. I didn't have much knowledge of how the transportation worked, but I was relieved to see a proper system to order a cab. I waited in a massive line filled with other curious travelers and groups for almost 30 minutes to take a position number which directed me to a cab pick up lane. I had the impression I wasn't going to deal with traffic like in Los Angeles, but I was wrong. I spent almost an hour in it, and that didn't include the instance when my cab driver got lost and had to ask for directions. I was tired and ready to lay my head down, but I had to remember this was only part of my experience. As a matter of fact, my curiosity woke me back up and sparked the great opportunity to gaze outside; familiarizing myself with the atmosphere of the city.
How would I describe it? Compared to what I have seen before in India and Vancouver, it met the middle of the two. There are well developed medium sized skyscrapers that were surrounded by what looked like lower class sheds of homes and stores. These were either decorated with gold and bedazzled religious statues or filled with floral arrangements. At every corner, there was the famed American Seven Eleven or Mcdonalds with an entrance filled with street food carts. I saw more modern vehicles, full-size cabs, and mopeds than tuk-tuks.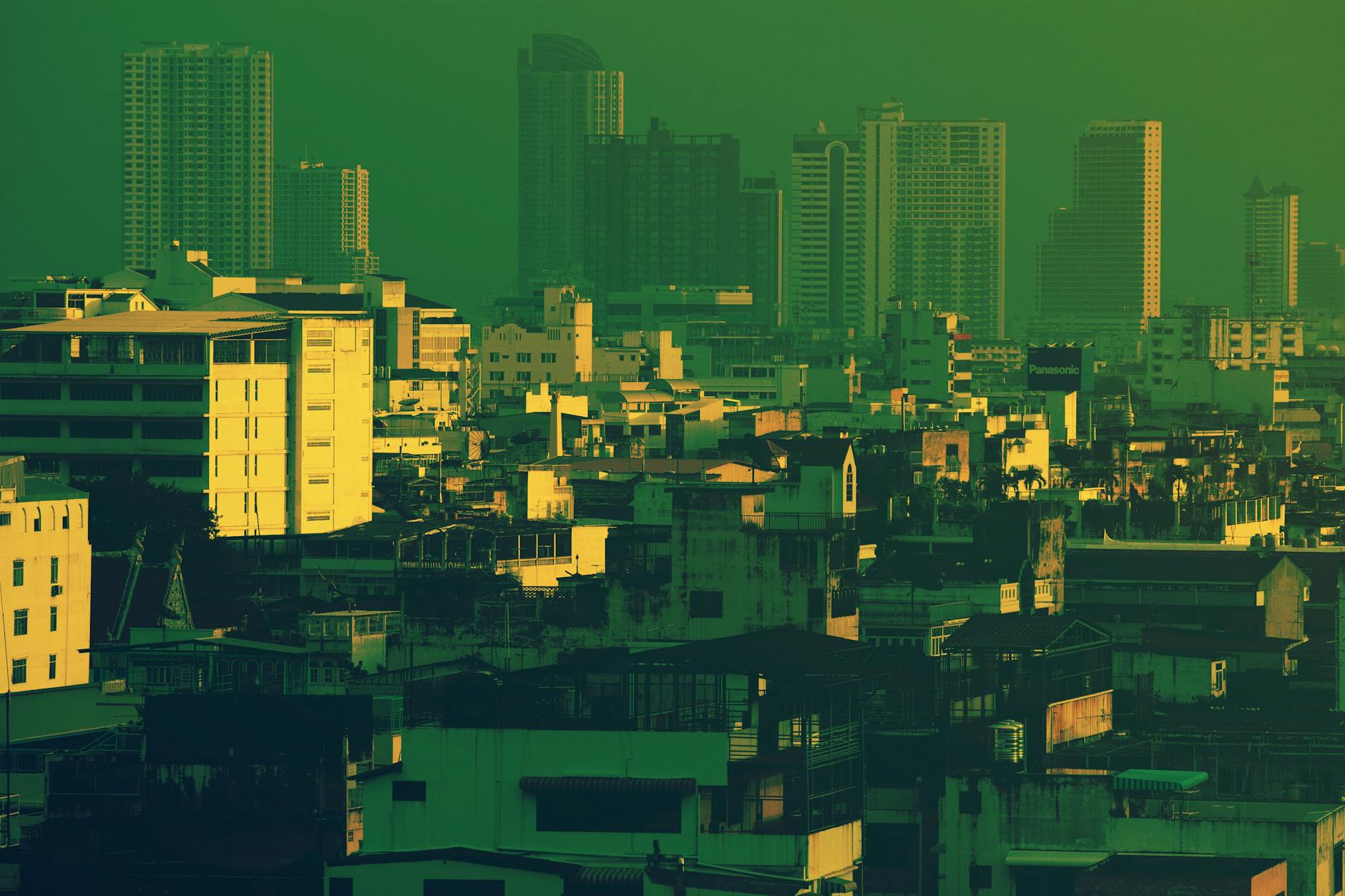 After finally arriving at the Airbnb, I took moments to relax but on the patio. It overlooked what seemed like the countryside of Bangkok and had a spectacular view of the city skyline. Bangkok conveys a village vibe but with an aim to be a modern developed city. My hungry stomach interrupted, so I decided to head out to get some food. Thankfully I was close to the main road where a lot of the restaurants, stores, and other amenities was located. I had to walk down a smaller street to get there, and amid doing so, I ran into locals. Here is when my adjective of friendly community steps in. The locals of Bangkok didn't seem to make a huge deal that I was a tourist or traveler. The community doesn't stare because you looked different. Instead, they would glance at you with a grin and carry on. In comparison to my past experience like India, I was a ghost in the streets of Bangkok. Not once did I feel unsafe or worried about walking at night. The roads weren't filled with homeless people begging for money. There would be odd smells here and there and stray dogs, but nothing too extreme forcing me to build a wall. The most obvious element I did recognize was that the streets were mostly clean. After a warm, delicious, and very cheap meal at a nearby restaurant, I was content and satisfied.
That was the wrap up of my first night in Bangkok. I decided to stay in, rest, and get ready for two full days I was going to spend in the city. It was a bumpy and long initial journey, however, what was to come, made it all worth it. So far at this point, in my mind, I already knew, this was going to be an easy trip to navigate, and one that was going to be the most memorable.
————————————-
Visiting Landmarks and Temples (Coming Soon)
Exploring and shopping at the weekend market (Coming Soon)
Want to visit Bangkok? Here is what you need to know. (Coming Soon)